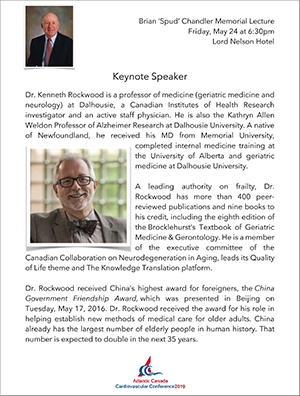 Brian 'Spud' Chandler Memorial Lecture Friday, May 24 at 6:30pm
Lord Nelson Hotel
Keynote Speaker
Dr. Kenneth Rockwood is a professor of medicine (geriatric medicine and neurology) at Dalhousie, a Canadian Institutes of Health Research investigator and an active staff physician. He is also the Kathryn Allen Weldon Professor of Alzheimer Research at Dalhousie University. A native of Newfoundland, he received his MD from Memorial University, completed internal medicine training at the University of Alberta and geriatric medicine at Dalhousie University.
A leading authority on frailty, Dr. Rockwood has more than 400 peer- reviewed publications and nine books to his credit, including the eighth edition of the Brocklehurst's Textbook of Geriatric Medicine & Gerontology. He is a member of the executive committee of the Canadian Collaboration on Neurodegeneration in Aging, leads its Quality of Life theme and The Knowledge Translation platform.
Dr. Rockwood received China's highest award for foreigners, the China Government Friendship Award, which was presented in Beijing on Tuesday, May 17, 2016. Dr. Rockwood received the award for his role in helping establish new methods of medical care for older adults. China already has the largest number of elderly people in human history. That number is expected to double in the next 35 years.